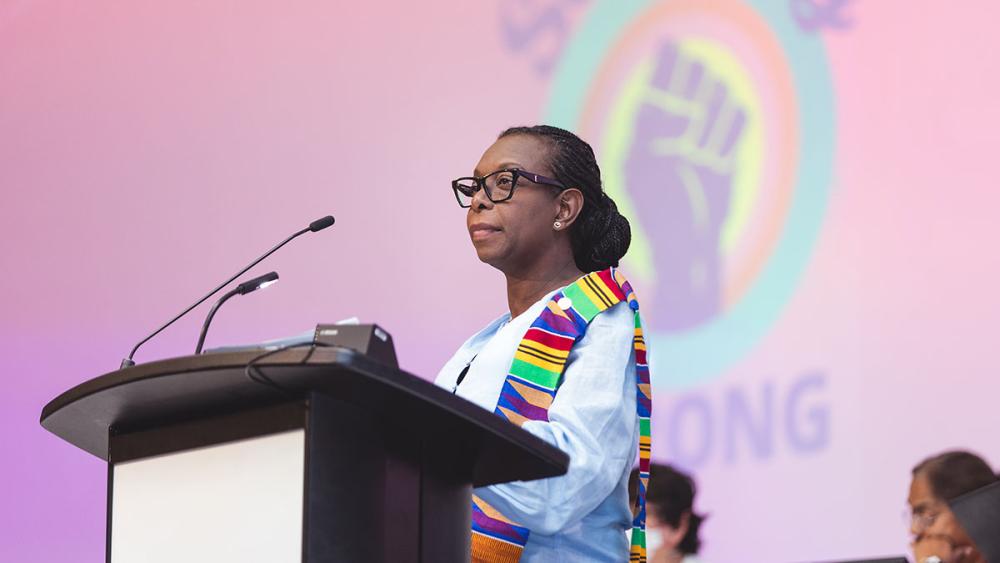 ARTICLE
Your Federation: Fall 2023
ETFO Annual Meeting 2023
Close to 700 ETFO delegates attended the 2023 Annual Meeting between August 14 and 17, 2023, setting policies and directions for the coming year. This year, ETFO also celebrated its 25th anniversary. ETFO was created in 1998 – bringing together the Federation of Women Teachers' Associations of Ontario and the Ontario Public School Teachers' Federation as one, strong union. Since its formation, ETFO has won many improvements in working conditions, defended members' rights, made equity and social justice key priorities, and protected Ontario's public schools.
President Karen Brown - Opening Address
ETFO President Karen Brown began her speech by expressing sincere gratitude to ETFO's 83,000 members for their work in classrooms and communities across the province.
In the last year, ETFO has faced down and challenged bad legislation, she added. First was Bill 28 which imposed a contract on CUPE, denying their Charter Protected right to free-collective bargaining, including a notwithstanding clause in the legislation, and ETFO joined with the entire labour movement to say "No" and the government was forced to back down. Then ETFO, along with allies in the labour movement challenged and defeated Bill 124, the wage restraint legislation, restricting the ability to negotiate meaningful salary increases, which continues to affect this round of bargaining.
"A government that values public education doesn't cut education funding by an equivalent of $1,200 per student – yet the Ford government has made these cuts at the same time students are crammed into packed classrooms and special education students aren't getting the supports they need and deserve," said Brown.
The president noted that the ETFO central bargaining team has been working all year to try to address concerns in education, but the government has refused to engage meaningfully, offering strips to salary, benefits, and working conditions instead.
"We have reached a tipping point. ETFO's patience has run out. Our members' patience has run out," said Brown before making an important announcement for ETFO members. "Today, I am announcing that ETFO will be engaging with our members this fall and asking them for a central strike mandate."
General Secretary's Report - Sharon O'Halloran
ETFO General Secretary Sharon O'Halloran delivered her supplementary report to the Annual Meeting on Tuesday morning. In the report, she provided a synopsis of the financial management, membership details, and the programs and services offered to members to support them in their professional lives. She spoke about ETFO's work to evaluate and adapt the efforts of the organization to improve the work lives of ETFO members.
"You are the face of the union," O'Halloran concluded. "Without you, ETFO would not be the largest leading education union in this country. As we gear up for next steps in bargaining, it is this strength that will guide us," she said. "For the past 25 years, ETFO members have proven time and time again that by working through problems as a collective we are better, and we are stronger. We cannot and should not lose sight of this."
Social Justice Speaker Paul Taylor
Long-time activist, non-profit leader, educator, and media commentator Paul Taylor was this year's social justice speaker. In his address to the ETFO Annual Meeting, he shared his journey for social justice, and reflected on two political campaigns in which he ran federally.
Taylor began by saying that he wanted to share a few words about being a queer Black man working to make the world a better place, noting the importance not only of organizing together, but also of taking care of ourselves and our communities, and of prioritizing joy and rest. He spoke about standing on the shoulders of those who came before him – including his mother, grandmother, and great-grandmother – who encouraged, guided, and taught him to become the activist he is today.
Reflecting on his work and his community he concluded, "The obstacles we face are great, but I truly believe that better is possible. My commitment to advocating for better means never sliding into complacency. The status quo isn't inevitable. Let's make our ancestors proud by doing all that we can with the baton that they passed us."
Report of OTF President Nathan Core
Ontario Teachers' Federation (OTF) President Nathan Core spoke about how OTF has led the fight for teacher professionalism and high-quality public education for over 75 years. He provided a pension update and discussed the important issue of teacher shortages having an impact on the work of teachers and education workers.
"We continue to advocate for good quality public education," said Core, noting that "there are individuals in the Conservative party who see privatization of education as a goal."
As part of its advocacy, over the last year the OTF published two reports: Paul Bocking's Schools, Austerity & Privatization in the Pandemic Era and The Implications of Virtual Teaching and Learning in Ontario's Publicly Funded Schools, K-12 by Lisa Bayrami. Both reports are available on the OTF website.
CTF President Heidi Yetman Addressed Annual Meeting Delegates
Heidi Yetman, who took the reins as president of the Canadian Teachers' Federation (CTF) in July, spoke to the importance of working across the country to protect and enhance public education. In a political climate where governments are pushing for greater privatization, collaboration between unions and the work of the CTF is more important than ever, she said. "The answer to almost any issue facing our communities begins with robust, quality, publicly funded public education."
Yetman noted that the Ontario government continues to introduce changes without meaningful collaboration and consultation with front-line educators. She talked about the ways the government is undermining public education with chronic underfunding and actions like Bill 98, which gives more power to the minister of education, and Bill 124, wage-restraint legislation that was repealed after unions stood up against it. Most recently, the government introduced PPM 168, which undermines collective agreements and bargaining.
Because education is a national priority, CTF has been working in partnership with other education organizations across the country to create a national advisory council on public education, which will take issues directly to the Federal government.
Special Guests Marit Stiles and Terrence Kernaghan
Marit Stiles, leader of the official Opposition and MPP for Davenport, and Terence Kernaghan, MPP for London North Centre and ETFO member, brought greetings on behalf of Ontario's New Democratic Party. Stiles congratulated ETFO on its 25th anniversary and quipped, "I absolutely love when I get to be in a crowd of teachers; as a former education critic, it feels like coming home," before taking a more serious tone.
"We have a government that is not satisfied on cutting public education, it is hell bent on constructing a crisis and privatizing our incredible public assets," said Stiles. "But we are on to them and will not let them get away with it. We will replace them with a government that doesn't govern with cuts and chaos and ideology. I want to thank you. Your fight at the bargaining table is all our fight." She called on the Ford government to come to the table with fair proposals for the educators in public elementary schools in Ontario.
ETFO Award Winners 2023
Congratulations to winners of this year's ETFO awards.
Anti-Bias Award
Manjit Deol, Peel Teacher Local
Anti-Poverty Award
Sarah Fleming, Simcoe County Teacher Local
Anti-Racist & Equity Activism Award – Women's Program
Erika Mark, Kawartha Pine Ridge Teacher Local
Anti-Racist & Equity Activism Award
Shannon Greene, Elementary Teachers of Toronto Sezgin Nalsok, Halton Teacher Local
Arts & Culture Award
Jenn Wallage, Waterloo Region Designated Early Childhood Educator Local
Children's Literature Award
Stephanie Duff, Peel Teacher Local 
International Humanitarian Award for an ETFO Member
Cindy Zappacosta, Algoma Teacher Local
Member Service and Engagement Award
Peel Occasional Teacher Local
Outstanding Role Model for Women Award – Women's Program
Jen Deck, Kawartha Pine Ridge Occasional Teacher Local
Political Activist
Heidi Irion, Simcoe County Teacher Local
Professional Learning & Curriculum Development Award – Women's Program
Ramandeep Sarai, Elementary Teachers of Toronto 
Rainbow Visions Award
Shawna Rothgeb, Ottawa-Carleton Teacher Local
Women Who Develop Special Projects in Science and Technology Award – Women's Program
Nicole Netherway, Niagara Teacher Local
Women Working in Social Activism on Behalf of Women and Children – Women's Program
Abarna Selvarajah
Writer's Award – Women's Program
Rahel Tesfaledet, York Region Occasional Teacher Local
Writer's Award
James Steeves, Peel Teacher Local
Honorary Life Membership Award
This year, the following recipients received Honorary Life Membership awards, the Federation's highest form of recognition:
Janet Bigham, Simcoe County Teacher Local president 2006-2021
Adelina Cecchin, member of ETFO provincial Executive 2009-2020, Greater Essex Teacher Local president 2008-2020
Sam Hammond, ETFO provincial president 2009-2021
Emily Noble, ETFO provincial president 2002-2007