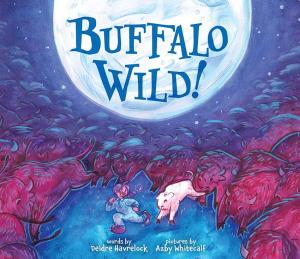 By Deidre Havrelock, illustrated by Azby Whitecalf. Annick Press, 2021. 32 pages, $21.95.
Deidre Havrelock's Buffalo Wild! is a beautiful book that brings Indigenous teachings to life in an easy-to-understand way.
Declan is a little boy who loves learning about buffalo from his Kokum, who loves to share her excitement about the once-numerous animal with her grandson. Declan wants to live in a world with the buffalo. One night he asks for the buffalo to return and to his amazement they appear in the sky trying to come home. Through some creative thinking, Declan helps the buffalo, only to realize there is a reason the buffalo are disappearing. Luckily, the Creator answers his request for help and leaves Declan with a few buffalo to enjoy the magic of the creature while living in harmony with them.
This book is an excellent read for the elementary classroom, especially Primary and Junior levels. Students in Kindergarten will love the story and Azby Whitecalf's illustrations, which are wonderfully crafted, with characters that come alive within the book's pages. Older students will be able to understand more of the messaging in the book. Buffalo Wild! is a great prompt to discuss what happened not only to the buffalo but also other endangered animals. It asks us to consider what we can do as a society to help protect these animals and all of nature.
At the back of the book there is some added information about the Buffalo Treaty and what it means to Indigenous Peoples. This material can help facilitate a discussion of what the treaty means and what its goals are.
This book could be added to any classroom library. The story is a great way to teach students about Indigenous teachings and customs, protecting animals, and what happens when society doesn't protect these creatures. It can be taught as a specific lesson or a standalone read aloud.
Kat Honeywell is a member of the Ottawa Carleton Teacher Local.