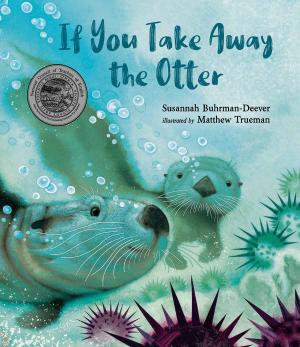 If You Take Away the Otter
By Susannah Buhrman-Deever, illustrated by Matthew Trueman. Candlewick Press, 2020. 32 pages, $22.76
If you read one picture book to your Grade 4 class to teach them about the Life Systems Habitats and Communities curriculum strand, it has to be If You Take Away the Otter. This book is a story about the importance of balance in an ecosystem and includes all the information you need to cover the big ideas in this science unit. And, it has a happy ending.
Susannah Buhrman-Deever has a PhD in animal behaviour, so she writes with authority on this subject. But, she also writes with a child audience in mind. Her writing has a story-like quality that includes wonderful, descriptive language. This is enhanced by lush illustrations of the kelp forest. The close perspective in most of the illustrations allows us to see small details in the pictures. The otters are looking right at the reader and they are easy to empathize with.
The story is supported by details written in a smaller, bolded font, which provide lots of excellent scientific information without slowing the story's pace. Jotting down the facts from the book gives you plenty of information for creating food webs.
The book highlights the difference between the hunting that Indigenous communities have done for centuries with the overconsumption of European fur traders. The loss of the sea otter, the overabundance of sea urchins and the eventual loss of the kelp forests are clearly described and well-supported with the illustrations. Thankfully, the story does not end there. Buhrman-Deever explains conservation laws and the eventual return of the sea otter and the kelp forests. This hopeful ending is inspiring for students.
Further inquiry is easy. There are videos and articles available through the suggestions in the back matter of the book, the author website and a simple Google search. The author is also available for virtual class visits. A simple 15-minute question-and-answer interview is free of charge.
If you are thinking of purchasing one more book to support the Grade 4 Science unit, I would highly recommend If You Take Away the Otter.
Diana Murrell is a member of the Peel Teacher local.