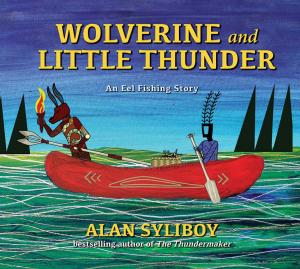 Wolverine and Little Thunder: An Eel Fishing Story
By Alan Syliboy, Nimbus Publishing, 2019, 34 pages, $22.95
Wolverine and Little Thunder is a story about a young boy and his favourite animal friend, Wolverine. Wolverine and Little Thunder are very different, but they enjoy each other's company. Little Thunder and Wolverine do many fun things together including hunting caribou and eel fishing. One night they encounter the giant eel – known to be very dangerous. It can "turn the tables on whoever hunts it!" Wolverine gets pulled overboard into the water and ends up in a fight for his life to get the great eel. Little Thunder is very worried for his friend, but with power, strength and determination Wolverine overcomes the great eel. Through perseverance and teamwork, Wolverine, Little Thunder and other animal friends and members of the community are able to get the eel out of the water, clean it, cut it up and use every part, so no part is wasted.
This story is beautifully illustrated with vibrant and colourful pictures by artist Alan Syliboy who looks to the Indigenous Mi'kmaw petroglyph tradition for inspiration. Wolverine and Little Thunder could be used in the junior grades to consider how visual arts reflect the beliefs and traditions of a variety of peoples and of people in different times and places.
This book can also be connected to the Grade 4 Social Studies curriculum by using the social studies inquiry to investigate ways of life and relationships with the environment in a First Nation society.
With its captivating art and simple messages about friendship and working together, this book is an excellent read-aloud for Kindergarten to Grade 3 students. Wolverine and Little Thunder can also be used to teach the character traits and values of perseverance, friendship, teamwork and respect, which would be useful to teach to all grades.
Jill Burton is a member of the Elementary Teachers of Toronto.