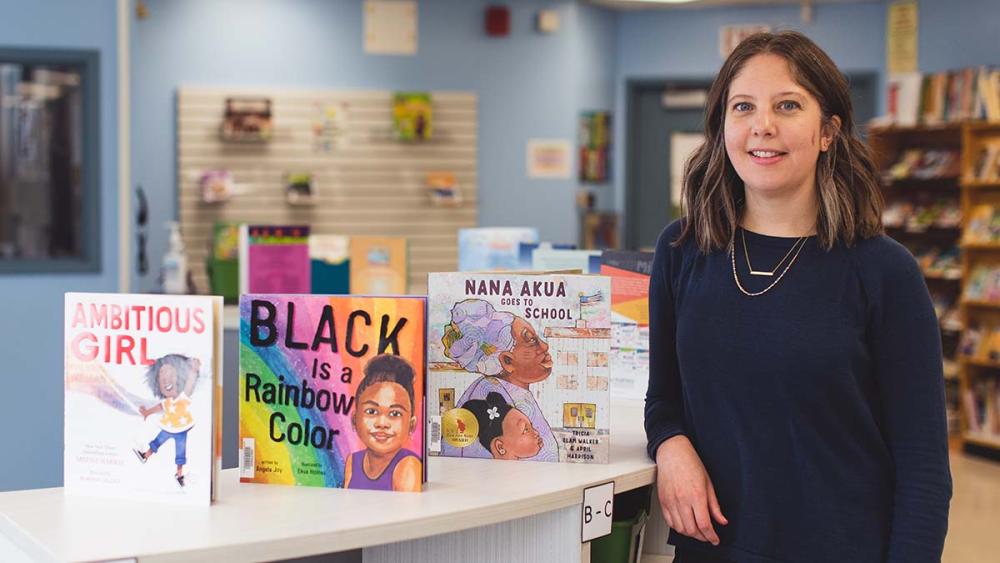 FEATURE
Elevating Diverse Women's Voices in Canadian History
Raise your hand if you've heard a student say (or thought to yourself): 
"History is boring." 
"History class is just memorizing a bunch of dates and names." 
"What's the point of studying these old people?" 
"What does history have to do with my life today?"
When students say these things, their underlying message is, "I don't see myself reflected in this learning; it is not relevant or meaningful to me." These comments are likely based on experiences in a history classroom where resources and learning centre colonial and Eurocentric narratives. By critically evaluating our own understanding, as well as rethinking the texts, resources and instructional approaches we use when teaching history, we can make learning about history more relevant and meaningful. This shift in practice must include an intentional move to elevate and centre female voices and gender-diverse (including gender non-binary and genderfluid) voices that have often been underrepresented or even erased completely.
No Text is Neutral
Many teachers use history textbooks for similar reasons: insufficient personal knowledge about the content area, lack of time to find other resources or simply because textbooks have always been used. However, using textbooks can be particularly problematic if they are the sole text for instruction, and even more so if they are regarded as a neutral and unquestioned authority on the subject matter. It is crucial to recognize that no text is neutral; we cannot rely on any single text to represent the diverse perspectives and experiences that contribute to the story of the land known today as Canada.
Since we rarely find significant representation of female and gender-diverse voices in history textbooks, it is necessary to expand the types of texts used in the classroom in order to elevate their voices. The "texts" we use include books, but also images, artwork, audio and video recordings, podcasts, music, and a variety of other media. For example, students could listen to a Secret Life of Canada podcast to learn about the history of Black nurses in Canada or study the artwork of Inuit artist Kenojuak Ashevak and discuss her impact on the Canadian art world. Teaching and exploring history through stories, oral traditions and artwork also affirms that these texts are valuable and valid historical sources, and that we do not always need to turn to formal written texts to support learning.
In her ground-breaking 1990 essay, Rudine Sims Bishop uses a powerful analogy to explain the role of different types of texts.
She explains that some texts serve as "mirrors," in these texts, we see our own identities and experiences represented. Other texts are "windows," providing us with a view into other people's worlds and experiences. And still other texts are "sliding glass doors," allowing us to use our imaginations to become part of a different world.
Often, the resources we use to teach history are mirrors, windows or sliding glass doors that prioritize the white, male, colonizer experience. For many of the racialized, female and gender-diverse students we teach, their school experiences have not exposed them to many "mirror" texts that reflect their own identities and experiences. We need to provide a variety of mirror texts for these students so that they see themselves as not only represented but valued and empowered. Additionally, for students who do not identify as female, it is equally important that they are exposed to these texts as "windows" and "sliding glass doors" to the lived experiences of women and gender-diverse people in Canadian history. In this way, Bishop explains, students will learn to "understand the multicultural nature of the world they live in and their place as a member of just one group, as well as their connections to all other humans."
Rethinking How We Teach History
The front matter of the 2018 Ontario Social Studies, History and Geography curriculum document asks teachers to "draw attention to women" in order to "give students a variety of opportunities to learn about diversity and diverse perspectives," including the contributions of women, so that students from a wide range of backgrounds may "see themselves reflected in the curriculum." We need to be intentional and specific about what "drawing attention" means in order to effectively counteract the "null curriculum."
In a paper written as part of her master's studies at York University, Natasha Henry- Dixon, now president of the Ontario Black History Society, explains that "the null curriculum, a term coined by Elliot Eisner (1985), is the knowledge that students do not receive in school based on either conscious or unconscious decisions by teachers, school administrators or curriculum policy makers, who choose not to include particular subject matter." In the elementary Canadian history context, the null curriculum includes the voices and perspectives of racialized women and gender-diverse people who are not usually centred in the curriculum and resources we use.
The truth that "no text is neutral" extends to the curriculum documents from which we teach. Although we use the curriculum to guide our planning, instruction and assessment, it remains necessary to look beyond the examples provided in the curriculum expectations and intentionally make space for diverse voices when teaching and learning about history. Specifically, we need to draw on diverse voices from women and genderdiverse people who are racialized and those with intersectional backgrounds, as they have been and continue to be suppressed and silenced within these colonial, Eurocentric narratives. These efforts are essential to addressing the null curriculum.
Social Studies/Historical Thinking Skills
In addition to re-evaluating the texts and resources we use, we can also draw more attention to female and gender-diverse perspectives by rethinking the instructional methods we employ when teaching history. Traditional approaches include presenting "important" names, dates and historical facts to students and expecting these facts to be memorized and evaluated. A more effective and engaging approach leverages the relevant disciplinary thinking skills to frame the learning. Social studies thinking skills (grades 1-6) and historical thinking skills (grades 7-8) guide students to investigate the curriculum through questions and discussions around historical significance, perspective, cause and consequence, patterns and trends, continuity and change, and interrelationships.
These disciplinary thinking skills are already embedded within the Ontario Social Studies, History and Geography curriculum. The front matter of the curriculum document provides some context for teaching these skills, and each strand of the curriculum has been directly connected to one or more of the thinking skills as an instructional focus. By using disciplinary thinking skills to frame the learning, students can become critical thinkers about history, noticing and naming whose voices are present and missing in traditional dominant narratives. This noticing and naming process provides opportunities to elevate female and gender-diverse voices, fostering a more holistic understanding of Canadian history.
In addition to the application of social studies or historical thinking skills, the curriculum includes big ideas that answer the question, "Why am I learning this?" The big ideas are aligned with the overall expectations for each strand and are matched with the most relevant disciplinary thinking skills for the topic. They can be used as learning goals for units and lessons, and they support a focus on enduring understanding, rather than facts or details that will quickly be forgotten.
Using big ideas and disciplinary thinking skills for planning and instruction allows us to be more flexible and responsive to the students we teach, making time and space to investigate and explore more diverse experiences and perspectives.
There is so much to unlearn and relearn when teaching Canadian history. Engaging in this iterative cycle of unlearning and relearning can cause discomfort, especially when we may recognize our own complicity in upholding colonial and Eurocentric narratives in our classroom practices. We can lean into this work by being open to critically examining the resources we use; being responsive to students' identities, experiences, strengths and interests; and re-thinking our instructional methods through a culturally relevant and responsive lens. Our commitment to investigate, elevate and centre diverse female and gender-diverse voices supports the students and families we serve in uncovering and understanding a more authentic, complex and inclusive narrative of Canadian history.
Next Steps
What are some actionable ways to elevate diverse female and gender-diverse voices in the Canadian history classroom? Here are a few possible first/next steps:
Take time to critically read and understand the curriculum document
Critically review the texts (including books, images, videos, podcasts, artwork, etc.) and other resources you currently use to teach history, noticing whose voices are centred and missing
Commit time to investigating resources that centre diverse female and genderdiverse voices in Canadian history, and use them in planning, instruction and assessment • When investigating resources, prioritize the use of primary sources and own-voice texts to ensure stories are being told by the voices they represent
Seek out text selection supports developed by your school and/or school board • Review unit plans, lesson plans and learning tasks to evaluate whether they provide opportunities to centre diverse female and gender-diverse voices
Engage in conversations with students about this work; involve them in the unlearning and relearning
Collaborate with colleagues to plan or revise lessons and engage in learning together
Advocate for additional diverse and inclusive resources, if required
Make connections with local community groups (e.g., museums, local government, historical societies) who can support learning
Consider how social media can be leveraged as a space for your own learning, such as by following diverse female and gender-diverse authors, educators and social activists
Starting Points Connected to the SSHG Curriculum:
Grade 1: (Strand B) – identify and reach out to local female and gender-diverse community leaders with invitations to share perspectives and experiences
Grade 2: (Strand A, B) – investigate contemporary matriarchal societies around the world
Grade 3: (Strand A) – investigate the roles women and girls had in family structures and society across several cultures within Canada in the early 19th century, and compare and contrast those roles to contemporary cultures within Canada
Grade 4: (Strand A) – investigate historical matriarchal societies around the world
Grade 5: (Strand A) – investigate the impact of colonialism on the traditional roles of First Nations women; highlight the significant role First Nations women held in the development of the fur trade; investigate the impact of the fur trade on the roles of Métis women (Strand B) – investigate how the various levels of government have addressed constitutional rights for Indigenous peoples, and ways in which Indigenous women have demonstrated resistance against political decisions (e.g., Shannen Koostachin, Autumn Peltier)
Grade 6: (Strand A) – investigate perspectives and experiences of gender-diverse people in historical and contemporary communities in Canada, such as learning about the Anishinaabemowin term "two-spirit;" discuss experiences of communities who immigrated to Canada from the perspectives of diverse women (e.g. Faith Nolan)
Grade 7: (Strand A, B) – investigate diverse female perspectives and experiences in early colonial Canada and the impact of their activism against slavery and racism during this time (e.g., Mary Ann Shadd Cary, Chloe Cooley); investigate the role women played in the development of the Underground Railroad
Grade 8: (Strand A,B) – investigate the impact of the Indian Act on First Nations women and gender non-conforming people, and how this impact continues today; investigate the major concerns of women's rights groups during this time period, recognizing which women these groups represented and excluded To consider: Historical narratives of traditionally and presently marginalized communities must not focus solely on trauma; we must also highlight stories of resistance and excellence. One way to do this is to highlight the efforts of contemporary community members who advocate(d) for these stories to be told.
Amanda Cannon is a member of the York Region Teacher Local.
---
Resources
The following resources are shared with the understanding that no text is neutral. This list is also not comprehensive or representative of all identities but can serve as a starting point for learning from diverse female and gender-diverse voices in connection to Canadian history.
To Follow:
Twitter:
@NHenryFundi (Natasha Henry- Dixon)
Instagram:
@herstoricallyspeaking – created by @alyssagtyghter (Alyssa Tyghter)
@kojoinstitute (Kike Ojo-Thompson)
@tiplerteaches (Megan Tipler)
@blairimani (Blair Imani Ali)
@larissa_speaks (Larissa Crawford)
To Read:
Cultivating Genius (2019) and Unearthing Joy (2023) by Gholdy Muhammad
Canadian Women Now and Then by Elizabeth MacLeod and Maia Faddoul (2020)
Fierce: Women Who Shaped Canada by Lisa Dalrymple (2019)
To Explore:
Historica Canada Education Guides (Women in Canadian History; Indigenous Perspectives; Black History in Canada) (education.historicacanada.ca)
Women of Impact in Canada (women-gender-equality.canada.ca/en/commemorations-celebrations/women-impact.html)
365 Black Canadian Curriculum (ETFO, available at members.etfo.ca under Classroom Resources)
Teaching African Canadian History (teachingafricancanadianhistory.weebly.com)
"Queer 101" and Queer History Timeline (queerevents.ca)
Chinese-Canadian Women: Multicultural History Society of Ontario (mhso.ca)
Canadian Council of Muslim Women (ccmw.com)
The Historical Thinking Project (historicalthinking.ca)
Secret Life of Canada (CBC podcast)
Herstorically Speaking (podcast)
How much do we know about the roles women played in Canadian history? (CBC panel discussion) youtube.com/watch?v=08tV9I-_g7I
Native Women's Association of Canada (nwac.ca)
Women in Stem (womeninstem.ingeniumcanada.org)