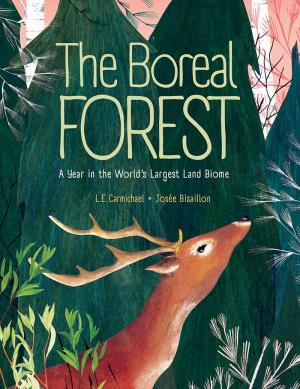 The Boreal Forest: A Year in the World's Largest Land Biome
By L. E. Carmichael, illustrated by Josée Bisaillon. Kids Can Press, 2020. 48 pages, $19.99.
The Boreal Forest is an informative junior intermediate book exploring the world's largest land biome through the four seasons and across twelve countries. In a lyrical style of writing, we learn that the boreal forest emerged after the ice age glaciers melted and retreated north, allowing the forest to flourish in its current regions, "like a scarf around the neck of the world." The book dives into each country's landscape, plants and animals, relating them to seasonal changes and the ways the boreal forest provides many types of habitats within the biome. Informational text boxes are provided, complementing the main storyline. The author includes the history of Indigenous Peoples who have lived in the boreal forest for thousands of years and their traditional knowledge of the land. Twopage infographic spreads of the water cycle and carbon cycle are included, as well as an explanation of how the pace of global climate change is concerning. The illustrations throughout are done in a stunning collage style that creates a lasting impact.
The Boreal Forest is a fantastic resource for educators with many direct connections to the Ontario curriculum. The book naturally connects with various strands in science including Grade 4 habitats, Grade 6 biodiversity, Grade 7 climate change and Grade 8 water systems. It also nicely links with Grade 4 physical regions of Canada and can be used for mapping skills to display the forest range and countries on a world map. The water cycle and carbon cycle diagrams can be reproduced or projected and used as references during a lesson. Organized by seasons and countries, opportunities for small group cooperative learning tasks also emerge. During a read-aloud, non-fiction text features can be highlighted. Students can create their own mixed media art from the nature inspired illustrations in the story. The Boreal Forest effectively guides learning about sustainability and stewardship within the world's largest biome.
Amanda Anderson is a member of the Bluewater and Upper Grand Occasional Teacher Locals.