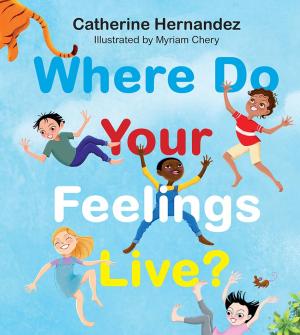 Where Do Your Feelings Live?
By Catherine Hernandez, illustrated by Myriam Chery. HarperCollins Canada, 2022. 32 pages, $24.99.
The mental health of youngsters has been a persistent topic of conversation, not only among educators and other school staff, but also parents, guardians and caregivers. Whether in the staff room or in the school yard at pick-up, we all know that many Ontario children are struggling. As educators we feel the weight of this challenge, as well as a lack of funded, staffed mental health resources. Catherine Hernandez's most recent picture book, Where Do Your Feelings Live?, refocuses this effort on young children themselves and their feelings.
Hernandez and illustrator Myriam Chery explore big, confusing feelings small children experience and reimagine them as animals that youngsters can interact with. In one instance, the reader is asked, "When you're someplace unfamiliar, how do you feel?" The feeling is characterized as a large pink-and-purple ostrich that buries its head in the sand. The author reassures the reader, "Your feeling is wise to close its eyes until the bad things go away. Welcome your feeling into your cozy blanket fort until it is safe."
In other scenarios, children grapple with everything from parents arguing to witnessing the righteous anger of an anti-racism protest. Hernandez consistently respects what the child is trying to express and how they react to it, instead of having adults tell them how they should feel. Hernandez assures children that their feelings are legitimate, as well as manageable, and reminds adults that we can support them.
For readers aged four to seven, Where Do Your Feelings Live? is perfect for class discussions, as well as art and journaling activities. The book connects to the healthy living strand of the 2019 Ontario health and physical education curriculum, in which students "learn about mental health as a part of overall health and begin to build understanding about the connections between thoughts, emotions, and actions."
Similarly, the 2016 Ontario Kindergarten program stresses that, "educators help promote positive mental health in the classroom by providing children with opportunities to learn adaptive, management, and coping skills; communication skills; and relationship and social skills – the personal and interpersonal skills they need to develop resilience, a secure identity, and a strong sense of self."
Gordon Nore is a member of the Elementary Teachers of Toronto.