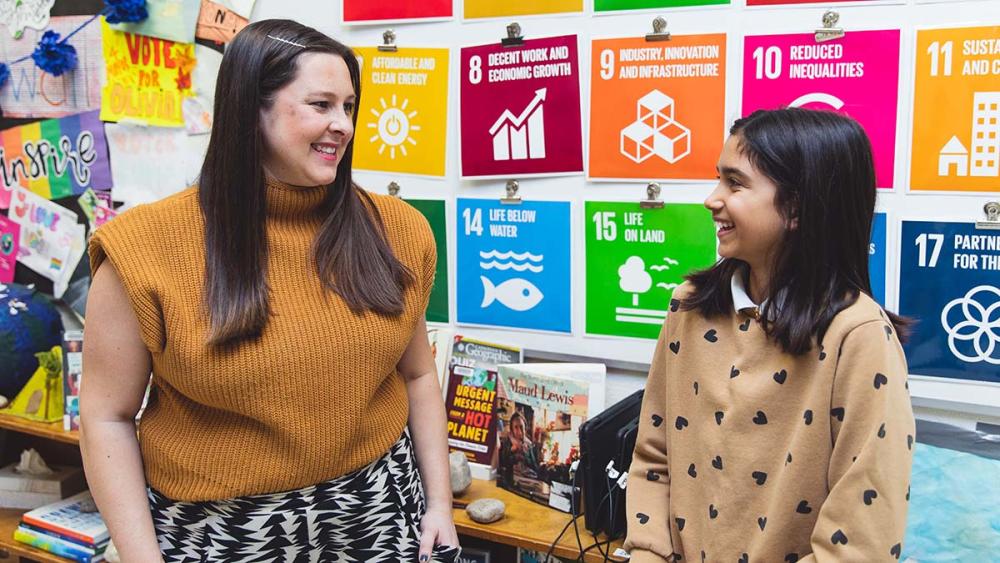 Photo by Christine Cousins
FEATURE
An Interview with Young Climate leader Gweneth Arumainayagam
During my search for an interview with an Ontario youth environmental leader, the first question I asked Grade 6 student, Gweneth, was "do you identify as a climate activist?" Though this ambitious preteen exhibits all the qualities and skills of a determined, educated, Earth champion, it's not immediately how she would describe herself. In Gweneth's words, "I am very passionate about stopping climate change, saving the environment and making the world a better place. I also like astrophysics, skiing and golfing."
The world changers of the next generation have grown up in the shadows of a climate crisis and have been doing their part quietly, without the titles. Gweneth, as with previous directors of our Outdoor Adventure Kids club (OAK), regularly leads students from K-8 towards creating a more sustainable world. Though it's the collaborative efforts from all our members that make the difference, director Gweneth takes on specific weekly, organizational responsibilities like completing our Eco Schools assessment and supporting the various initiatives of our members, which had her chatting with me about her eco journey thus far.
OAK is our own brand of Eco club, a name students pushed for during the height of membership, over 50 students in grades 5-8, pre-pandemic. The name was meant to encapsulate a wider variety of the work we do, particularly outdoors. Our efforts through invasive species removal and native planting in the neighbouring forest with the partnership of Halton Conservation, as well as our spring and fall vegetable planting in our 12 raised beds built by our nearby high school, and the maintenance of our adjacent pollinator garden from the making of seed bombs with the Halton Environmental Network, necessitated the name change. While OAK is targeted towards our junior and intermediate students, Gweneth first started her environmentalism as part of our equally popular feeder club, Acorns, in her primary years.
SARAH LOWES: How did you become interested in joining OAK?
GWENETH ARUMAINAYAGAM: Well, when I was in Grade 2, I was part of the Acorn club, which is an Eco club for younger kids, grades 1-4. Being part of the Acorn club with Mlle DiMarco had a big impact on me as a little kid. She was very passionate about the environment and how it impacts animals. She inspired me. I would come home and tell my parents every single detail of what I did. That's where my passion for saving the environment started. Anyways, all the clubs got cancelled because of COVID-19 so I was only able to join the OAK club this year. Mlle Lowes, you started to inspire me again by showing us how climate change is affecting everything around us. If we keep doing what we are doing and destroying the planet, we won't be able to enjoy the planet.
Cultivating an interest in the environment by supporting young children's innate curiosity with the natural world is an insightful reflection. In ETFO's Creating Environmentally and Socially Active Communities, a Kindergarten to Grade 8 resource guide that offers a whole school approach to scaffolding conversations about climate justice and environmental racism, lessons start with fostering a relationship and connection to the natural world, before introducing contributors to climate change in a hopeful and action-oriented way. As notable environmental educator David Sobel suggests, "If we want children to flourish, to become truly empowered, then let us allow them to love the Earth before we ask them to save it."
SL: Why is having an Eco club important to the community?
GA: Having an Eco club is important because a lot of people are not aware of what's going on in the world to animals and to people. This club is to spread awareness and make a difference in our community by educating people on issues that matter to us. It's really nice to see so many people coming together to save our small corner of the big universe.
SL: What types of activities do you do in your club?
GA: In the club we have smaller groups that are working on raising awareness for interests that matter to them. For example, some students are planning a short film festival for Earth month, others are planning crafts out of waste to do with the Acorns. One thing we've learned from playing Solutions is how important reducing our food waste is, so we have a team making an educational art gallery about that. We have someone working on Meatless Mondays and I run Waste Free Wednesdays, which both try to stop pollution that impacts climate change. There is so much trash wasted. Mlle Lowes, you taught us to think about sustainability by asking ourselves if everyone else on the planet did the same thing, what would happen? I like to think of it as if you have one singular wrapper and you throw it out in the wrong bin, you may think, 'Oh well, it isn't going to matter, it's just one wrapper,' but that's not true! If everyone did it, we would end up with huge landfills, plastics going into the ocean and into the things we eat."
Solutions is an excellent, educational game for schools and Eco clubs from Sam Levac-Levey, a mechanical engineer from Montreal. Described as "Cards Against Humanity but for climate change" on their website, as the Earth warms, players work together to propose solutions with varying degrees of impact. Inspired by Project Drawdown, another great, solutions-oriented, educational resource, Solutions the game provides information on 75 of the most impactful ways we can most effectively reduce climate emissions. Amongst the top strategies you will find Reduced Food Waste and Plant-rich Diets. After playing this game, our OAK club refocused our efforts on supporting the awareness of these two major solutions as the best ways to have a positive influence on the future.
SL: As our school navigates how to be a Sustainable Future School, we are trying to integrate the United Nations' Sustainable Development Goals (SDGs) through our initiatives. What do these Global Goals mean to you?
GA: I think that the SDGs are the building blocks of reducing climate change. They are going to be the stairs which make it easier to get to the top of building a sustainable world. It's easier when you have goals because they help you stay focused. The goals also help anyone in the world realize we are working together. It is great to have a community because it has a chain reaction. When you have a community, they can spread awareness to their family and friends. With a community and a club it feels like we have more power to turn things around.
SL: How do you imagine the world in 10 years?
GA: I think the world could go in two directions. One, we would be able to change our ways, be more eco-friendly, reduce our food and material waste, do small acts of difference that add up over the years, so that we can save our planet. Maybe we can even become more like Iceland who has almost 100% renewable energy, which I find remarkable. Or the other direction, if we don't change our ways, there could be more heatwaves, droughts, forest fires, melting glaciers and warming oceans. It could also be bad for pollution. I used to live in Shanghai and the air pollution was very, very bad. I remember for two weeks straight it was extremely hot and we weren't allowed to go to school. Sometimes I couldn't see very far in front of me because the air pollution was so bad. I don't want to live in a world like that.
SL: What message would you like to send to other youth interested in the environment?
GA: I would tell them to never give up. No matter how impossible it seems there will always be a solution. Do your own little part and spread awareness about climate change. I would also say to try to educate yourself and others about problems that matter to you, so that our generation is aware and active. I think it's important for kids to be educated about climate change and pollution because it makes for a better next generation and therefore a better future.
Sarah Lowes is a member of the Halton Teacher Local.
---
Here are 5 Things That Kids Can Do to Help Save our Planet, According to Gweneth:
Reduce, reuse, recycle: Try to reduce the amount of plastic and waste you use every day. Instead of using plastic water bottles, invest in a reusable water bottle because in the long term it will cost less and help our planet. Also try to pack a waste-free lunch, at least on Wednesdays! Remember the first R is reduce, but reuse and recycle are important too. If you don't, it will be very detrimental to the environment. Instead of throwing out old clothes, toys and books, donate them to save waste and give resources to others.
Water is precious: Don't waste water. You might not notice how precious it is but we are especially fortunate to have this great resource.
Don't waste energy: Walk or ride your bike instead of always using a car. Heating and cooling our homes uses a lot of energy, try to keep it a little warmer in the house in the summer and a little colder in the winter by wearing the right clothes.
Tell people: Write letters to government officials as a class and try to convince them to help us. Tell your families and friends about how important the environment is to you and encourage them to help too.
Join your eco club because it makes a difference and it feels powerful to work in such a great community.
Gweneth's Recommendations
READ: Astrophysics for Young People in a Hurry - Neil deGrasse Tyson, Drawdown: The Most Comprehensive Plan Ever Proposed to Reverse Global Warming by Paul Hawken, Losing Earth by Nathaniel Rich.
WATCH: Down to Earth with Zac Efron. It's really interesting because they travel around the world and find cool, sustainable things that are happening. There's this seaweed being used in Australia called asparagopsis to feed livestock. A little bit of asparagopsis in a cow's diet can reduce methane production by 95%, which would have a major impact on climate change.
PLAY: Solutions. A lot of people don't realize how many solutions there are already to solving climate change. This game helps you understand all the possibilities and what actions are most effective. It's fun to work together to save the world from climate disaster. It also helps to know where to focus our efforts. One day we will translate these solutions into a reality.