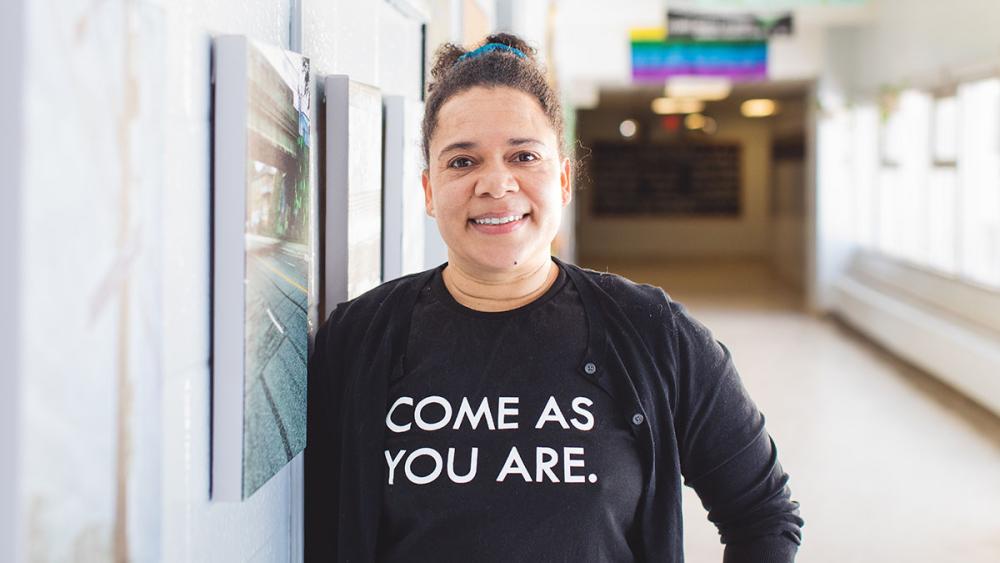 Photo by Christine Cousins
FEATURE
Imagining Our Sustainable Community
Over half of my 22-year career in elementary education has been at Taylor Creek Public School, where I have passionately pursued integrating sustainability and eco literacy into the Ontario curriculum using inquiry-based learning. As a Black woman who specializes in Science, Technology, Engineering, Math (STEM) and outdoor education, I am more than aware of the lack of representation of racialized folx in these fields. Teaching in a culturally diverse school community, it is very important to me that my students are exposed to opportunities in STEM to become the changemakers we need, especially in the current climate crisis. Our school is situated in the Oakridge Community in Scarborough, nestled in the forested area of Warden Woods and Fir Valley within the Taylor Creek watershed. Although we are in a large city, we are very fortunate to have easy access to nature. Our school is also surrounded by (and built on) industrial land and bordered by social housing and hi-rise apartments. I love my school community, which is why I have been teaching here for over a decade. The racial and religious diversity, vibrant culture and traditions are all deeply rooted in community. These, together with a sense of giving, make our school community a special and amazing place.
Traditionally an immigrant, working-class neighbourhood, Oakridge is experiencing the beginning phase of rapid gentrification. One of the vacant plots of land near our school at 685 Warden Ave. is slated for redevelopment. I wanted my students to learn more about land development in their neighbourhood and to examine the current proposal to see if they felt it would meet the needs of their community. Through the creation of an architectural model, they would have the opportunity to re-imagine the location and bring to life their own vision. The students at our school love spending time outside, connecting with the natural world, and want to be involved in activities and actions that help protect and preserve the environment. As a certified EcoSchool for 13 years (platinum level for the last seven), our student body has proven their interest and commitment to environmental issues and sustainable living.
TDSB Ecoschools Network
The TDSB EcoSchools network has been an invaluable resource that helped our school stay informed on a variety of learning opportunities. In 2018, I was offered the opportunity to participate in the No.9 program called Imagining My Sustainable Community (IMSC). No.9 is a charitable organization based in Toronto focused on eco-literacy programming for elementary, high school and postsecondary students. Through immersive, hands-on educational programs, No.9 empowers youth to transform the built world around them, challenging and inspiring them to lead a national revolution in building sustainable communities across Canada.
The IMSC program has changed due to the pandemic, but the year we participated it provided release time for three intermediate educators at our school to take part in an in-school workshop run by two architects, along with 30 Grade 7 and 8 students. All the preparation and materials were provided by No.9. This was an amazing experience for both educators and students. The only downsides to the program were that the workshop was expensive (we were only able to participate thanks to a grant I applied for) and the time frame was limited to four days, which only involved a third of our total intermediate population. The experience was so transformative, however, that I decided I would find a way to create a similar experience so teachers and students could participate without barriers.
Over the decade I have taught in my school community, I have built strong relationships with our families, and developed an in-depth understanding of the systemic struggles our community faces including racism, under and unemployment, food insecurity and the negative impacts these have on mental and physical health. I have also experienced the skills, brilliance and joy my community possesses. In 2022, Rentola, a rental housing website, ranked 140 Toronto neighbourhoods based on seven categories that indicate different aspects of quality of life. Oakridge ranked in the bottom 10 neighbourhoods at 138 out 140. The Fraser Institute gave our school a score of 4.2/10. We are used to being misunderstood and underrepresented. Model schools may try to provide students with a more equitable school experience, but they do not alleviate or eliminate the external factors our community endures.
In class, we have conversations about colonial power structures, gentrification, which voices are amplified and which ones are missing. We know our accomplishments and skills are not easily measured using colonial tools. My goal as an educator is for my students to feel a sense of pride in their histories and to become successful global citizens who will help improve the lives of their families, communities and the world. In the field of S.T.E.A.M., I want them to become the role models they and the world needs.
How it Started
Inquiry based learning is a perfect tool to help integrate several subject areas. Our inquiry problem was local land use and what should be built on a vacant plot in our neighbourhood at 685 Warden Ave. The current proposal is an effort to gentrify the area and includes the addition of six buildings from 13-36 stories. Students felt that this proposal would further isolate their community and did not alleviate issues around access to food and essentials or employment. In learning more about our community, we drew inspiration from local role model, educator and community activist Curtis Carmichael. Carmichael wrote Butterflies in the Trenches, a book about the systemic oppression he experienced growing up in our neighbourhood. In it, he talks openly about breaking the cycle of poverty, preparing for future work and preparing young people to do the same. The three main themes he explores in his book are:
Talent is universal, but opportunity is not.
Success isn't about making it out; it's about making your life and community better.
Everyone is gifted. We just need the right platform and opportunity, and caring people around us to help us unwrap those gifts.
In addition to the curricular goals, it was my hope that at the end of the project students would feel more confident in their S.T.E.A.M. abilities and have a better understanding of land development where they live. I have included an "A" in the S.T.E.A.M. acronym because as Carmichael explains "STEM has been used in a way to uphold our current colonial systems. Arts is the human grounding of STEM. Essentially what the Arts does is it allows us to put humanity first."
The Project
For the project, students became architects, urban planners, engineers and artists as they worked in small groups to create a scaled architectural model of how they would develop the vacant lot at 685 Warden Ave. Their designs had to incorporate principles of sustainability and provide benefit to the community for future generations.
The first thing we did was go on a community walk to visit the vacant land, as well as view Google satellite images of the area. We spent time observing our community with a critical lens, looking at the layout and design of existing buildings and homes along with noticing what was missing. We spent time researching sustainable architecture from across the world to see what innovative designs and materials existed. We participated in the Sustainable Future Schools Youth Forum put on by the organisation Learning for a Sustainable Future (LSF). The youth forum allowed us to learn about environmental issues and action projects for sustainable solutions from a diverse group of post-secondary students. LSF also provided a workshop on the action planning process, which helped the students solidify their ideas and research and turn it into a plan for developing their project. For taking part in the forum, LSF gave participating schools a $500 grant that I was able to use to purchase the building supplies and tools students needed to create their models.
What we learned from our research and observations is that food security has long been an issue of concern for many families in our community, and our students frequently refer to their neighbourhood as a food desert, knowing first-hand how challenging it is to access groceries without a car. The primary vision for their design was to empower their community by creating a space where they could grow, cook, sell and donate food. They wanted to ensure that their community had a place to share their cultures, provide nutritious food to their families and participate in meaningful employment for current and future generations. Students also felt that dedicating some of the space to fitness, outdoor recreation and community art installations would be a great way to promote physical and mental health and wellness.
Design and Construction
We integrated mathematics and ratios into this project and students learned about the importance and use of scale in architectural modelling. We used 200m x 100m for the dimensions of the vacant lot and a scale of 1cm = 1m for our model. We used foam board as a base and divided the class into eight teams of three students each. Each team was given a 50cm x 50cm section of the plot to model.
Student groups then collaborated and chose the programs they felt were most needed in the community – living, food, recreation/play, education, and arts and culture. Once they knew what program(s) they wanted to focus on, they began brainstorming what types of structures they wanted to put on the land and how they would make them sustainable. We had a scaled drawing of our model on a whiteboard in the classroom where we mapped out our plan together. Many groups focused on the importance of food, working together to address food security and sustainability in complementary ways.
In the end, their designs showed an indepth understanding of their community based on their lived experiences. Student designs included basketball courts and an exercise track made from sustainable materials, an outdoor theatre for live concerts and entertainment, a rooftop garden for pollinators and air purification, a farmer's market, an urban farm, a halal food donation centre and a children's outdoor playscape and nature area that included a statue of Indigenous veteran, John Shiwak. The design also included art installations of murals by community artists, recycled water features and two large sculptures made from single use plastics as an education piece.
Celebration and Reflection
Once our final model was complete, each student prepared a one-minute presentation to talk about what they built and the sustainable elements they included in their design. Each group developed a thoughtful and creative backstory for their vision. We invited our administrator and superintendent to hear our presentations. We felt very proud when one of the superintendent's first comments was on the equal strength displayed by all the groups. The whole project and presentation was cohesive and executed with quality and care. It was important to me that our superintendent was able to see the aptitude for S.T.E.A.M. that exists in our school community. We entered LSF's 2022 Empowering Youth For Climate Action Award competition and, out of 300 submissions from across Canada, our project received the runner-up award and a prize of $500. We were the only model school to participate.
This project was important to me because a significant portion of our community face systemic barriers daily and have been more adversely affected by the pandemic than other areas of the city. Many of our students feel stigmatised for living in Ontario public housing and do not feel like they have the voice or ability to create change in their community. This is something I work hard every year to change. As a next step, I want my students to take their work to a wider audience at a level that has the potential for municipal action. We wanted to share our findings with the greater community, but due to the pandemic we weren't able to attend any public meetings with the land developers. We have been following the website created by the company developing the lot, and there will still be time for me to repeat this project with students who can continue this work. In addition to encouraging racialized students in S.T.E.A.M. professions, this project also helped students see their community in a positive light. I learned as a single classroom teacher, there are relatively easy-to-access resources and free support that can make it possible to create meaningful curricular-connected projects with a sustainable community focus.
Cynthia Roulston is a member of the Elementary Teachers of Toronto.
---
Resources
The resources below contain both ideas and ready-made activities for educators to bring sustainability education into the classroom.
These resources are the hooks I used to generate interest and excitement for the project.
I highly recommend this book, written by a former student at our school who is now an educator and community activist, for students (and educators) in grades 7 to 12.
Curtis Carmichael. Butterflies in the Trenches: The Hood, an Epic Bike Ride, and Finding Inspiration. Toronto, ON. Synergy Books, 2021.
The link for the current development proposal on Warden Avenue. 685warden.com